iQrah Tech is one of the leading providers for dot net solutions, IT support services in India, especially in Southern India. We serve clients in Chennai, Coimbatore, Trichy, Madurai, Mumbai, Delhi, Kolkata, Bangalore, Hyderabad and several other major cities and towns India.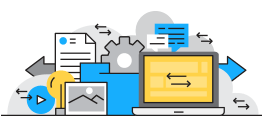 We provides quality and affordable Dot Net Solutions and other IT Solutions for the clients in India and customers in United Arab Emirates. Keeping ahead in business is all about being flexible enough, managing change and continuously finding scope for growth and improvements.  we review your requirements closely and come up with a range of services from IT help desk support to fully managed and tailor made services to be able to fulfill all your business needs.
We offer the following services:
Web design, development and maintenance
Custom application development
 Search Engine Optimisation
 Booking engine development and deployment
 Integration with payment gateway
Contact us for further enquiries!!
Redefining your brand identity and creating an impact that brings customers knocking on your door. Let's define and redefine your brand.
Trust, that's what we build when it comes to people and products. The Reliable Digital Marketing Agency to scale your business to new heights.
Delivering relentless growth to brands with our revolutionary digital marketing master plan that drives traffic, clicks, and potential customer